CORPUS CHRISTI
We said good bye to Harlingen, Texas and headed to Corpus Christi. To be more exact, we headed to the island in the gulf just off Corpus Christi. It's the northern part of South Padre Island. We referred to it as North Padre Island, which is incorrect but it sounds good since South Padre island is a lot farther South near Brownsville, Texas.
We caught up with Chick's two cousins from Missouri.  They were fishing off shore.  Have a great video of cousin Ronnie cleaning their fish.  Look at our FB page, you'll find the link.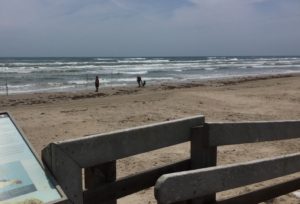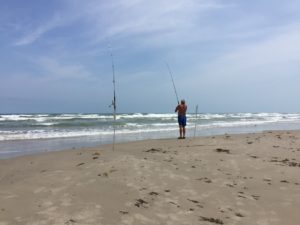 We spent the night at Laguna Shore Village RV Park on the mainland.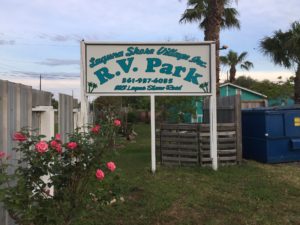 Ronnie, Sharon, Harold and Leta were boondocking on the island. We would love to park with them but were having trouble with our two, eight month old AGM batteries. They couldn't hold a charge more than one hour. Yes, you heard right.  Only eight month old and both are bad.  We would love to know if it was something we did wrong or a freak from Trojan.  We think we are good battery managers and never let them go below half.  I guess we will never know…  Later in this blog, you will hear Trojan made good and gave us two new batteries. All is well now, but in Corpus Christi we had to have a RV park to plug into shore power.
DALLAS, TEXAS
Next we drove to Dallas and driveway camped at Mick's niece, Peggy's home. Lucky for us her partner is a retired electrical engineer. He bought $50 worth of wire and a 30 amp plug and ran an extension out to our Roadtrek. After we left he reused the parts for another project. What a deal! ! ! It was hot enough to use our A/C and we had all the juice we needed.
DURANT, OKLAHOMA – Choctaw Casino
We left Texas going through Oklahoma and stopped at a Choctaw Casino KOA which is the number one KOA in the country. I took a lot of photos because you couldn't believe this place. The bathrooms and showers were like an expensive Private Country Club. Yes, I wasn't kidding, they are rated the number one KOA in the country! ! ! They are located at Durant, OK and worth the drive just to see this place.   Enjoy the photos…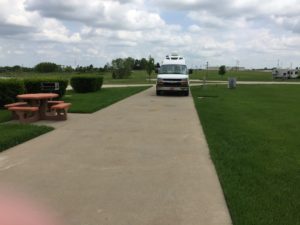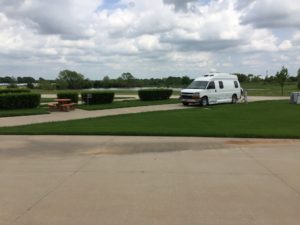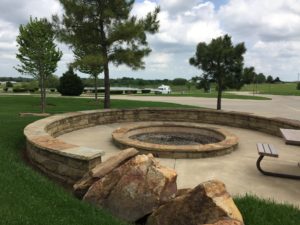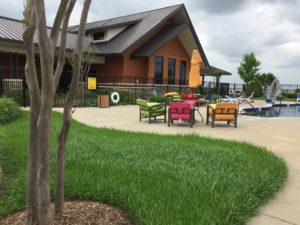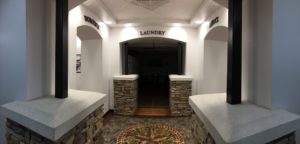 BLUE SPRINGS LAKE
We were on storm watch and watched the storms throughout Texas and Oklahoma and successfully avoided anything serious. But, next we headed into Missouri and hit lots of rain. We still avoided anything serious but it was cold and rainy everyday. Poor Missouri was hit hard with floods while we were there. Lucky for us, not in our area. One night the storm blew all the new leaves off the tree directly behind us. Sugar looked like she had the measles…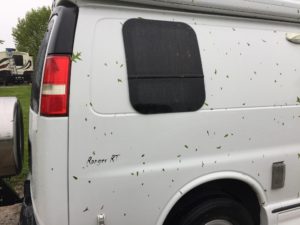 GRETNA, NEBRASKA
We went to Nebraska and watched our grandson win two more State championships in wrestling. He's an animal and had an unbelievable year. He went undefeated for the year and tied the Nebraska State Record with 42 pins.  We are proud of him! Wish him well in college wrestling.  They are visiting colleges now trying to decide which offer to accept.  It's fun watching and listening to how the process works.
We have been conversing with Trojan batteries trying to get them to honor their warranty. We bought two 6 volt AGM batteries last August when we were on the coast in Lincoln, OR. We have been to two different RV repair shops and had copies of their tests that show both batteries are bad. Trojan insisted we have them tested by one of their distributors. So when we told them we were headed to Omaha, they sent us to one of their Master Distributors that is located in Omaha. They did their test on the batteries and agreed with the two test we had done by RC repair shops.  Hallelujah! Our Sugar Shack is well again and running on two strong AGM batteries.  Her heart is pumping strong again.   The only thing we are not happy with is the warranty on their two new batteries. They said the warranty of the two we bought last August applies to the two new batteries we just received. So these two new batteries are already into their warranty about ten months. That doesn't seem right. I would think they should receive a brand new warranty. We really do not know if this is normal in the warranty business. If there is an expert in our group… please let us know with a post on our Facebook page, ROW With Mick And Chick.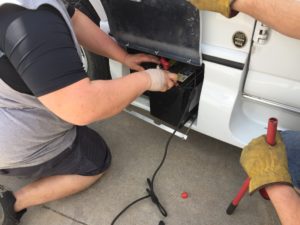 We ate pizza at the number one pizza restaurant in the U.S., Johnny Sortino's.  That's our opinion but they do have signs up saying they are number in Omaha; and, that's saying something because Omaha is the home of Godfather's Pizza and Valentino's.  Stop by sometime and eat their meat lover's pizza.  We think they call it the Four Meat Pizza.  Ohhh, it is so good….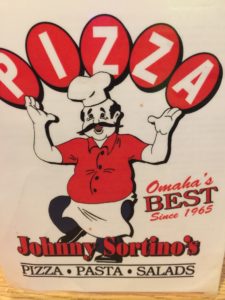 And… we ate the world's best onion ring at Big Fred's Restaurant.  Ok, ok, you are right….  That's just our opinion.  But, you gotta understand, we eat onion rings everywhere we go.  Honestly, we have never had better tasting anywhere!  Try them yourselves and see if you don't agree…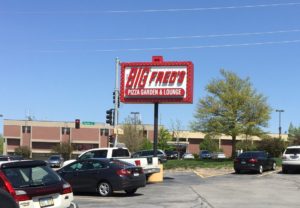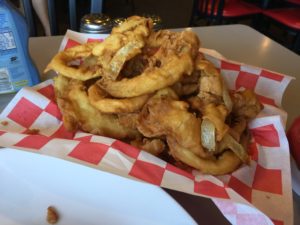 STROMSBURG, NEBRASKA
We left Omaha heading to Lake Tahoe for our Summer Timeshares. Our plan was to drive to the Reno airport and leave Sugar parked in long term parking while we flew to Phoenix for a grandson's graduation. Omaha and Reno are both on I-80. But, we think driving on an interstate is like seeing the same four lanes, mile after mile with a lot of semi-trucks, mile after mile. So, again we looked at the map to see another way of going. Boy! Did we find one. First, we drove a little North of Omaha and found highway 92. We wanted to go thru some of the Sandhills of Nebraska where they have huge cattle ranches. We first discovered Stromsburg, NE that has a free RV park owned by the City. They are the Swede capital of Nebraska. An interesting town exactly what we try to find in our wandering around. We didn't spend the night at their RV park because it was to early in the day; but, made note to remember for a future trip.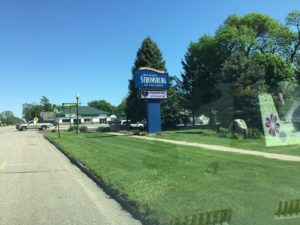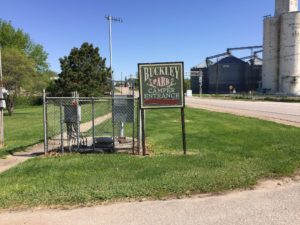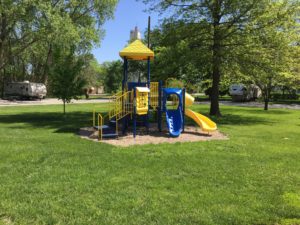 BOKEN BOW, NEBRASKA
We spent the night in Broken Bow, Nebraska at Tomahawk RV Park. Twenty dollars for full hook ups.  Broken Bow is another fun town to explore in Nebraska.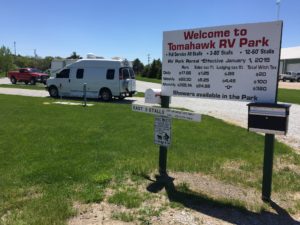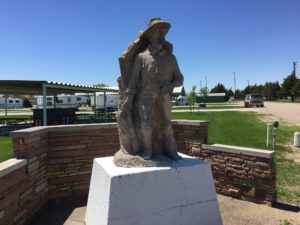 Here is a nice web page about Broken Bow… http://www.onlyinyourstate.com/nebraska/broken-bow-ne/
THE SANDHILLS OF NEBRASKA
One of the highlights of our trip occurred on Highway 92 somewhere between Broken Bow and Arthur. We had to slow down because there were a lot of black angus coming down the highway. We chatted with the ranchers wife and they were moving 1,300 head (just a part of their herd) to their Summer pasture. This was to many to move by trailer. So, they moved them down the highway. Both sides had fences and there was very little traffic. They spread out over two miles and we saw maybe five vehicles driving by slowly like we were. All were being very courteous. We counted maybe seven cowboys/cowgirls. This was exciting for us big city people. Something we don't see everyday. Would you believe have never seen?  There is a nice video on our Facebook page…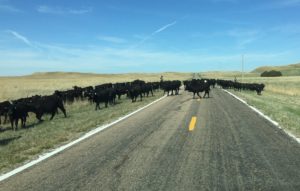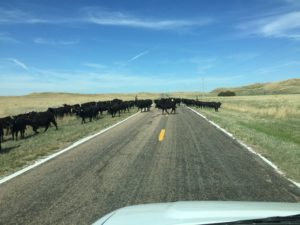 LARAMIE, WYOMING
We dropped down to Highway 30 which ran parallel with I-80 to the Wyoming State line. Then when Highway 30 ended, we travelled to Laramie, Wyoming on I-80. The only stretch we were on Interstate for this trip. Well… you caught me, we did have to travel I-80 a few miles at the end going from Fallon, NV to Reno. Ha ha.  You guys are tough.
We loved Laramie and stayed at a KOA for one night. Laramie is the home for the University of Wyoming. In February, Mick watched a young man win the Nebraska State Championship in wrestling at the 285 pound level who also received a scholarship from The University of Wyoming for football. We met his parents and…. what a nice family! The match was one of the most exciting we have witnessed. He was almost pinned, on his back, when he miraculously flipped the boy that was on top onto his back and won by a pin. In just a few seconds and all in one motion. There was a second or two of stunned silence before everyone erupted in cheering. It was one of those… "what did we just see" moments? We watched the video later and still wondered, how did he do that? This is the heavy weights we were watching. Patrick was on his back and somehow dug deep down and thought, this is my championship to win, and I'm about to lose! I'm not going to let that happen! Then he flipped a heavy weight wrestler (who had beaten him before) off and onto his back, in one stunning movement. We still get chills reliving it in our mind.  We are going to watch your career in football at Wyoming.
STEAMBOAT SPRINGS, COLORADO
Steamboat Springs is one of those must see locations. It's a big ski area in the Winter, but we love it in the Summer. Our timing in getting there was perfect. There was a mountain pass between Laramie, WY and Steamboat Springs, CO. The weather was predicting a little snow in our area overnight and up to two feet in Provo, Utah. When we went thru the mountain pass the outside temp had dropped from 36 to 26 and was spitting snow. Nothing was sticking to the pavement and we got thru the pass and down the hill back to 36 weather.  Whooooo. We felt fortunate
VERNAL, UTAH
We were rolling along, and spent the night in Dinosaur land at Vernal, Utah. This KOA is fantastic and Vernal is another fantastic town.   We highly recommend and would return in a heart beat. The owner is very nice and made sure we had a clear sky to the South for our satellite and put us close to the showers. We have never had this fast a wifi. Great park! ! !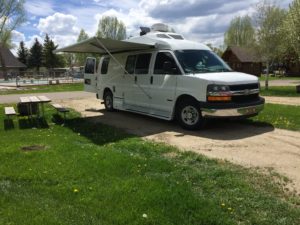 DELTA, UTAH
Lucky us. We are ahead of the bad snow hitting Wyoming and Colorado. Drove thru some mountain passes today from Vernal, Utah to Delta, Utah with high winds, snow flurries and big drop offs along the edge. Questioned our decision of leaving Vernal today, a few times. OK maybe more than a few times. We could have stayed another night. But now watching the Weather Channel, it looks like we might have made the right decision and are ahead of the snow. We hope to be in Fallon, NV tomorrow and much warmer climate.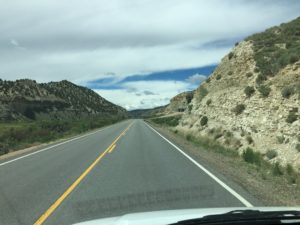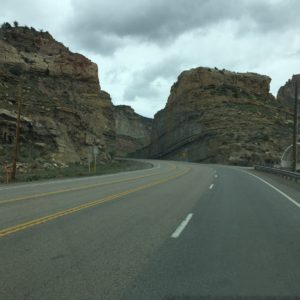 FALLON, NV
Woke up with snow on the Sugar Shack. She's use to sand from Arizona not that white fluffy stuff that's cold…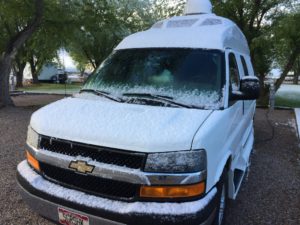 We drove 400 miles today in 8 hours. That's a little more than our usual of 250. We wanted to get out of the nightly lows around 30 with snow flurries. We are in Fallon, NV with a low tonight of 40 and high tomorrow of 75. That's ideal! ! ! We will be staying in the Reno area until Tuesday. Yeaaaaaa…

Our 400 mile drive was on "The Loneliest Drive in America" Highway 50 in Nevada. We only saw 17 vehicles going West the entire 400 miles. That's an average of one vehicle every 23 miles. We thought this was our private road built just for us…
RENO, NV
We stayed in Reno at the Grand Sierra Resort and Casino RV Park, or GSR for short. Nice park but needs work and charges too high a price for a casino. We understand it's not an Indian Casino; but, still…. We did like that it was about a mile North of the Reno Airport. We parked Sugar at the long term parking at the airport and we flew back to Phoenix for our grandson's HS graduation and Mick's Ophthalmologists appointment. We found out Mick will need cataract surgery this Fall. We have been told this was coming for the last ten years.  We have put it off as long as possible knowing that cataract surgery has made vast improvements.  We got that scheduled then drove our small car back to Reno. We picked up Sugar and got her out of jail at the airport long term parking lot and drove both vehicles up to South Lake Tahoe to our timeshare. We will be here for two weeks then a two week break and then back to Tahoe from June 30th to August 6th. Our plans are to spend most Summers in Tahoe because the vacation months are very crowded to RV. Over the last few years RV sales have sky rocketed and there are many more RV's on the road and not that many new RV parks. We will stay in Tahoe and enjoy the cool mountain air during the heavy vacation season then hit the road again in August…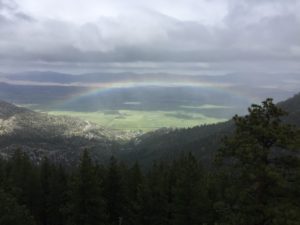 A view from above a rainbow from our window at The Ridge at Lake Tahoe.