We have learned that RV'ing in the Summer months is completely different than RV'ing any other time of the year. When we RV, we really prefer not to make reservations.  Our preference is making up our mind as we roll along. That way we can change the direction we go… as we go. We try hard to stay on the highways not the Interstates and discover things as they come along. Not planning to far in advance and changing our mind as we go. For us, the high vacation months of June, July and August with the real peak season being July 1st thru August 15th, are not as much fun as the other times of the year. So, we try to enjoy the cooler weather in Tahoe and stay at The Ridge and let the young families have the RV parks and camp grounds during the hot vacation season. When the schools start back in session, we like to travel and hit the parks again.
We love spending the Summer months at the Top of Tahoe; or, as it is also known as… The Ridge at Tahoe.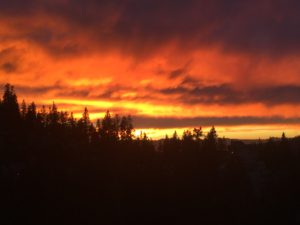 Sunset from the Tahoe Ridge…

We love the mountains in Colorado, The Lake of the Ozark's and the casinos in Las Vegas. The Ridge at Tahoe gives us a little of all three at one location:  the Sierra Mountains, Lake Tahoe and the casinos.
This year our timeshares started on June 3rd and had two weeks at the Ridge and then two weeks to travel in the RV. Then back to Tahoe on June 30th until the first weekend in August. We had more two bedroom units this year than we normally have. The problem with the time shares at The Ridge Are, we have to plan our vacation 24 months in advance. If you own one timeshare at the Ridge, you can reserve your week 23 months in advance. If you own two or more then you can set up your week 24 months in advance. So, we have to reserve our units two years in advance in order to get the weeks we want and the rooms that we want with the best view.  We have our Ridge timeshares for 2019 already cast in stone.
We loved being in the mountains the first two weeks of June. This was a first for us. During the past Winter, the Ridge received over 61 feet of snow. There was a lot of white on top, just like Mick and Chick, we have a lot of white on top.
trim.F7168A47-3B86-4844-8903-D21224DD3EEF
One day in early June this year, it snowed and accumulated just enough to hang around for half a day. It was fun to be in the mountains and watch it snow! We were a little concerned that Sugar would need to be winterized. But, lucky for us, it didn't get that cold. Close but no cigar.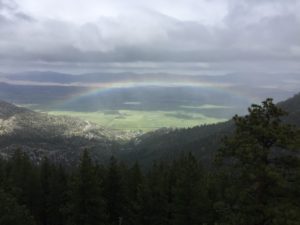 We have some beautiful pics we took of the Carson Valley that is on the East side of The Ridge.  In this photo, we were above the rainbow!
This year's timeshares had a two week gap for the last two weeks in June. We made the rash decision to drive over to the Southern Oregon Coast to visit with John J, an old friend of Mick's who owed us a 12 PAC of beer. Did we ever say that Mick likes college football? Well… John J. lost a bet two years ago and we promised that we would stop by and collect.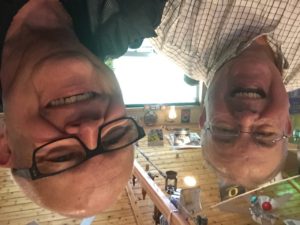 This seemed like a good time to do so. Mick might be good at college football but it doesn't look like he is good at collecting bets. We drove from Tahoe to the Oregon coast and back just to collect a 12 Pac of beer? ? ? Who really won the bet? To be honest… the friendship means so much more than the payoff and we would collect that way every time.  We spent an hour or two laughing and telling stories; and, some might have even been true?
We found a couple of CG's in Southern Oregon right on the coast. One we will gladly recommend (the video below) and one was OK but probably not  worth recommending.
trim.6E29785E-45F5-4040-9A48-286A020B256E
This is the River Side RV Park.
We got back to Tahoe and started our timeshares on June 30th and they ran thru August 5th. The July 4th week is always a sought after week for vacations and this year we were lucky and had two different, two bedroom units.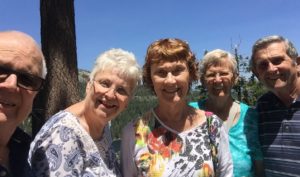 This is Mick, Chick, MaryAnn, Henrietta and Ike.
We had some really close, old friends come visit us and share the July 4th week. When we say "old" friends, we are not referring to their age. We have known these people since 1979 and we have been on many a vacation together. Ike and Henrietta & Jerry and Mary Ann. Jerry can no longer travel and is in a nursing home. We were lucky to have three out of four come spend the week. The six of us had rented a vacation home at the Tahoe Keys for the 4th of July, 25 years ago. So, that made this a special week, returning to the seen of the crime exactly 25 years later. How many people can say they went on vacation with some old friends exactly 25 years later to the same place?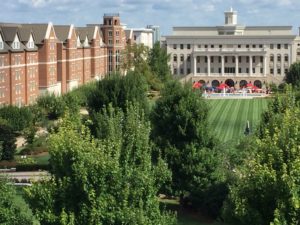 Our grandson, Joey is going to college at Belmont University in Nashville, Tennessee. We were asked to take his dorm furniture in our van from Phoenix, AZ to Nashville, Tennessee. When we left Tahoe we went back to Phoenix for a few days. Loaded Joey's furniture and headed to Nashville.
trim.F43E1380-C10A-4BA9-A3C9-DF42F3C2125F
Lower Broadway Street in Nashville, TN.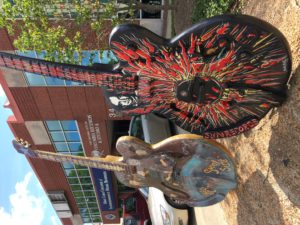 trim.28C30F11-BFCD-4E59-AC57-4597B48ECC7D
We were given a private tour of The Bradley Studios that produced hits by Patsey Cline, Red Foley, Brenda Lee, Marty Robbins, Johnny Cash, Bob Dylan, Roger Miller, George Jones and Tammy Wynette.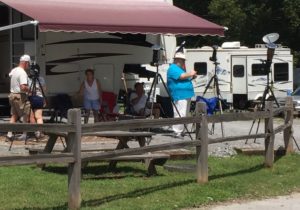 The fantastic news is… we were in Nashville the weekend before the solar eclipse. No one has ever accused us of being dumb. Yep, we stayed thru Tuesday so we could see the eclipse in the path of totality.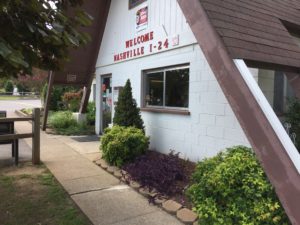 Mick and Chick have travelled the world but, have never been to Nashville. We loved it. Lots of things to do. Lots of nice homes to see. Lots of great restaurants.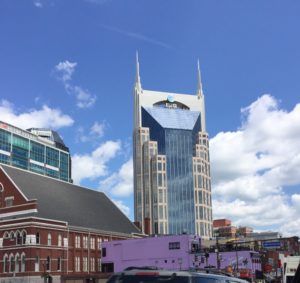 This is the Batman Building and in the lower left is the Ryman Auditorium.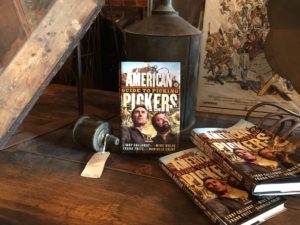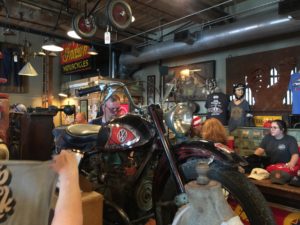 The American Pickers warehouse.
We saw something in Nashville that was amazing.  We had stopped for lunch at a Chick-fil-A and while we were eating it was pouring down rain.  We watched as a woman was trying to get in her car with a baby in a stroller.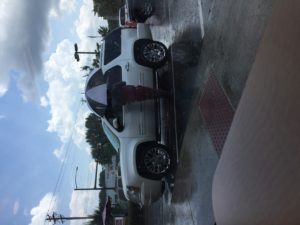 The manager grabbed an umbrella and went out and helped her.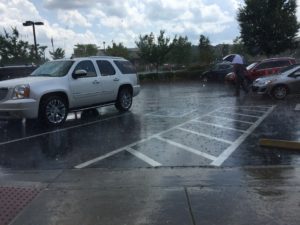 He then blocked traffic so she could pull out.  When we left Mick went over and told him, "You are my hero!"  That was above and beyond the call of duty and why Chick-fil-A has such large crowds.  They are famous for going out of their way to help people.  They offer that good old fashion "down home" Southern hospitality.  They say, "It was my pleasure, Sir".
Nashville is a town that would be easy to make your home. Either as a S/B or a RV.
We left Nash and drove to North Central Arkansas for a week at another timeshare on a lake for one of their Last Minute Deals. It was at the Crown Point Resort at Crown Lake at Horseshoe Bend, Arkansas.

We had a very nice condo. In fact it was the nicest condo we have ever had on one of the Last Minute Deals. They only average about $40 a night, $280 for a week. Some "Last minute deals" are OK and some are dumps. We try hard not to stop at the dumps. The condos at The Crown Point Resort were very nice. You can see in the photos. It was a good week of not having to use the CG showers, etc… We got to relax in the condo and drive the van to a different neighboring town everyday.
We left Arkansas and headed to the Blue Springs Lake CG East of KC, MO. Mick and Chick both went to school and were raised in KC. Mick went to Rockhurst High School and Chick went to Van Horne High School.  We love going back and eating at some of the old places.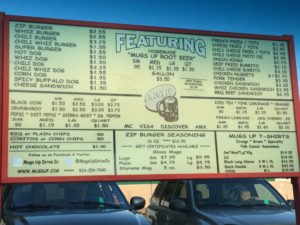 Yes, there is still a Mugs Up on 23rd Ave in Independence, MO.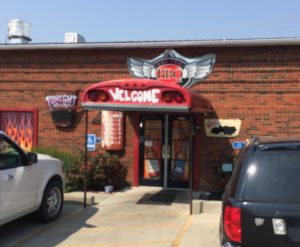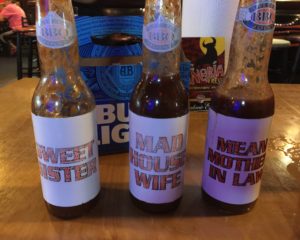 A Little BBQ Joint in Independence, MO.  And we never miss eating at Hi Boys and In A Tub.
We stayed thru the Labor Day weekend and then drove to Gretna, NE to driveway camp with our daughter, son-in-law and four of our grandkids.
Mick and Chick had a fun time with our four grandkids in Gretna, NE and then headed home to Phoenix.
trim.CDA19D3E-F088-47B2-B73D-B60ED02C0B8B
Yep, that's us driving down the Interstate listening to one of our favorite songs.  We normally do everything we can to avoid the Interstates but decided we had been gone from home a long time.  We calculated that we have only been home in Phoenix ten weeks in the past 17 months.  Mick has cataract surgery coming up in October and November.  We will then watch some college football bowl games in Vegas, go to the CES in Vegas in early January and then a two week cruise thru the Panama Canal the last of January.   So, we will be hanging around Arizona (Paradise) this Winter and enjoying our retirement!