THE PACIFIC NORTHWEST LEFT US SPEECHLESS
(But, we have enough words left to tell about our travels)
OREGON – 101 drive along the Ocean
Last August we were driveway camping at the home of our friends, Donna and Bill, in Lincoln City. We spent a week with unbelievable views of the ocean, great weather, good restaurants, good company. We loved Oregon more than California. Could you believe it?  A place we will come back to often. Next year we hope to stop and visit with John J. and his family in Southern Oregon.  After all, he owes me a beer and I'm going to collect.
WASHINGTON – Beautiful State –Much to do and see
Drove North on the 101, along the coast into Washington. While visiting Tacoma, we ate at The Cloverleaf Tavern on 6th Avenue a highly recommended establishment from our friend Eric L.  Great pizza!  It's been in existence for years!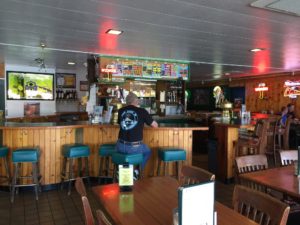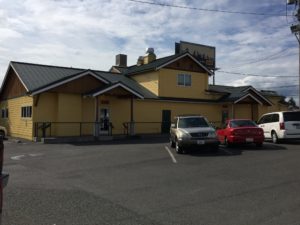 Spent the night at a KOA in Gig Harbor. Love Gig Harbor!  We were introduced to Gig harbor a few years ago by our friends Kathy and Gary. It is very upscale and beautiful. Surrounded by water on three sides.  If we could ever match those six numbers, we would consider buying a sticks and bricks home there.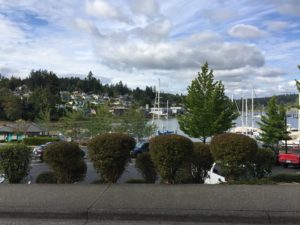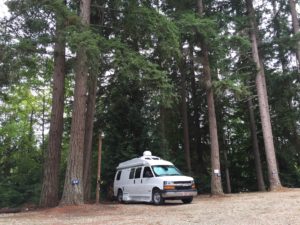 KOA, electric only hook up site.
Back to the 101 and up to the NW point of the U.S. You can see Vancouver Island across the Juan de Fuca Strait.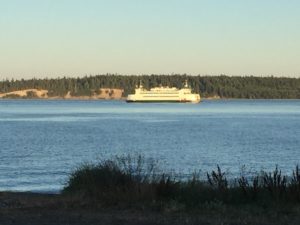 Drove around the top of the Olympic National Forest to Port Townsend.  Spent the night with a beautiful view of the water.  We then rode a ferry across to Whidbey Island.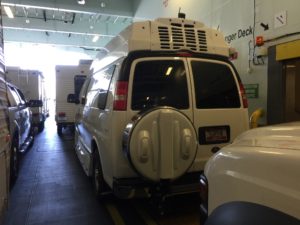 Spending a week we drove across the top of Washington on Highway 20, within a few miles of Canada.  This route took us thru the Cascade National Park.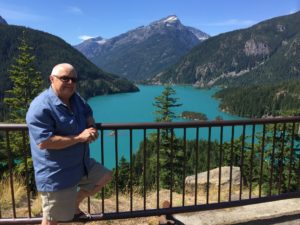 IDAHO AND MONTANA
Drove into Idaho and stayed in an RV park at Sandpoint, Idaho.  We then dropped down to Coeur d'Alene for another night. Continuing East over to Anaconda, MT for a week at a timeshare. Every day we explored in a different direction.  Montana is a beautiful State with a lot to see.  One day we drove to Helena, MT and did a driving tour of the mansions built during the mining era.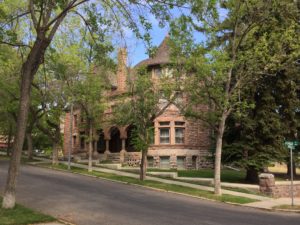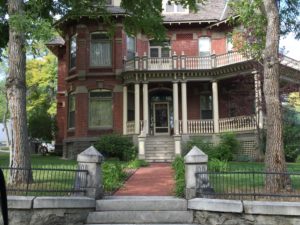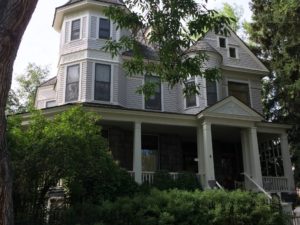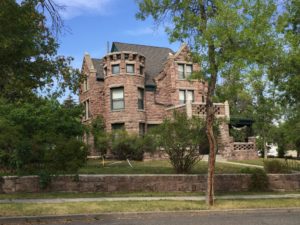 Livingston, Mt was our next stop, where the "rich and famous" have homes. The RV park in Livingston is where we discovered the unusual item that someone left behind behindin the RV Park bathroom. You never know what you'll find when you use a unisex bathroom.  This time I found a slingshot.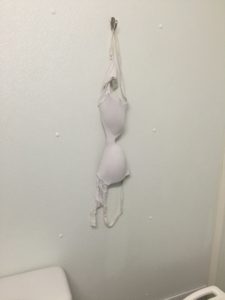 YELLOWSTONE NP
Next we drove into Yellowstone Park, thru the North entrance.  We stayed at the Fishing Bridge RV park for three nights. Yellowstone is a bucket list destination and a must do. Chick had visited Yellowstone as a young girl.  Mick has never had the pleasure.  Chick says it is timeless and still the same as it was 50 years ago.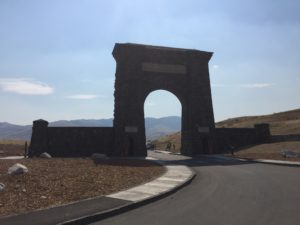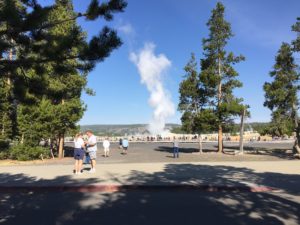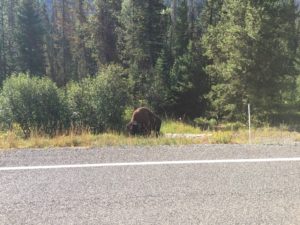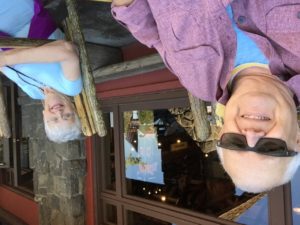 Leaving Yellowstone, we went out the East entrance heading to South Dakota. Spent one night at Sundance RV park and drove by the Devils Tower.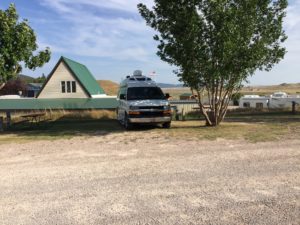 Love this photo of the picnic tables, taken at Sundance RV park…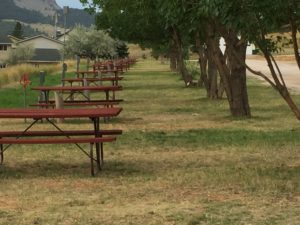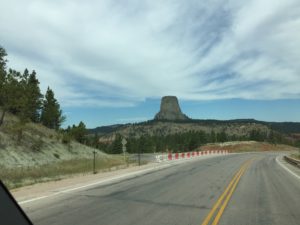 The Devils Tower,
SOUTH DAKOTA
Hope to spend more time here in the future…
Have you ever been to Deadwood, SD?  We stayed at the Creek Side Campground.  Highly recommend Creek Side. It's a small park with lots of unique amenities.  Between the RV Park and the highway there is a dirt trail for quads that leads to over 700 miles of trails.  Fun, fun, fun…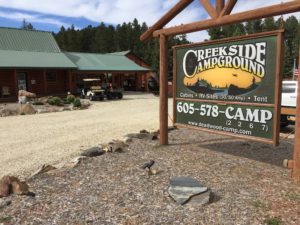 This is an outhouse with modern plumbing.  Yes… they also had nice bathrooms with shower, toilet and sink in private rooms.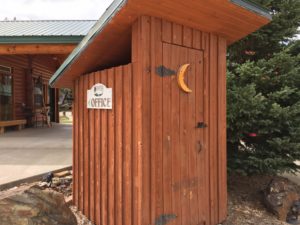 Deadwood (famous for casinos) and Sturgis (famous for bikers) are great places to visit and easy to spend a few extra days. Our visit to Sturgis was two weeks after their big annual rally.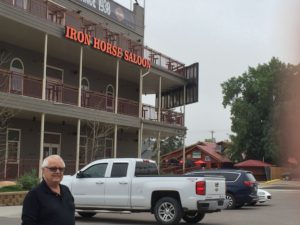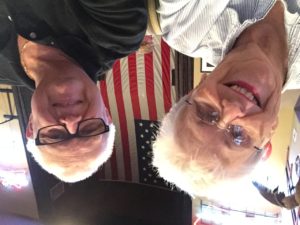 Drove East on interstate 90 and did the mandatory stop at Wall Drug.  A must see…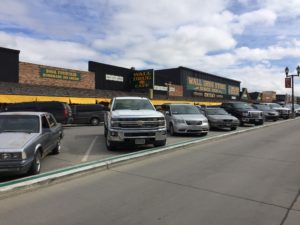 OMAHA
Left South Dakota and headed to Omaha where we lived for ten years of our 51 years of marriage.  We lived in Omaha when our two daughters were in school from 3rd grade thru HS. We driveway camped for the month of September at our daughters home in Gretna, Nebraska just outside Omaha.  Got to visit with our daughter and her family and four of our grandchildren.  We have lots of friends and relatives in Omaha with great memories.  Almost everyday we had lunch with another old friend (saying old for how long we have known them, not how old in age they are.  Well… sometimes, anyway).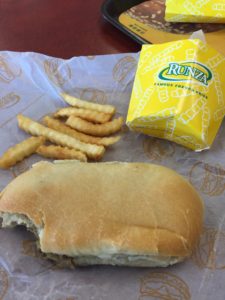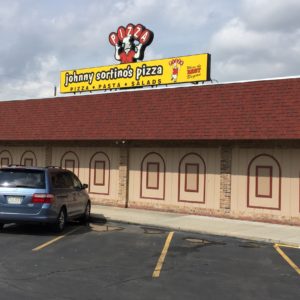 LOVE September in Nebraska where we can watch Husker Football with fanatics just like Mick! Not many things in life are better than watching Nebraska football, GBR. Or, I should say… Gooooo Biiiiiig Reeeeeeddddddddd…. I think you get the idea.  I do want to mention, they never lost a game while we were in town.
MISSOURI
Our home State where Mick and Chick were raised and went to school and fell in love and got married 51 years ago.
In October we left Nebraska and went to Kansas City, MO and Independence, MO.   We got to visit with some really old friends and relatives.  Really old…  This was like Happy Days.  We did a lot of reminiscing and visiting old sites. We parked three days in Merriam KS and ten days at the Blue Springs Lake RV Park in Missouri.  Had a mini class reunion with Rockhurst High School classmates.
We tearfully left the Kansas City area and headed to Branson, MO for a week at a last minute timeshare. Next year we hope to visit The Lake Of The Ozark's, where we use to vacation when we were young and foolish. The difference now is we are old and foolish. We have a lot of great memories from those years at the Lake Of The Ozarks.
PHOENIX, AZ – HOME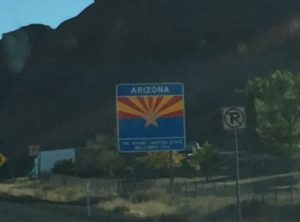 We left Branson, MO and made it home in two days of hard driving on time for the election. We left home on this trip on May 31st and got back around the first week of November.
LAS VEGAS – COLLEGE FOOTBALL
After one week in Phoenix, we decided there were two important weekends of CFB coming up, so we headed to Vegas for ten days. We love watching games in the Sports books and betting on the games. We stay at The Las Vegas Resort. It's not in the best part of Vegas. But, it is gated and a very nice park with $29 a night rates. It has private bathrooms with toilet, sink and shower. The people running the park and all their workers have great customer skills and loaded with charisma and always happy.  Love staying in a park where they always have a smile and happy to see you.
Here's a hot tip…
We discovered a free app called Tunity that works great in sports books or Sports Bars. One of the problems of watching a game in a Sports Book is the sound is never on the game you are watching. With this app, you point yout phone at the TV for the game and press "Scan". It scans the show and then finds the broadcast and plays the TV broadcast sound of the game directly on your phone. Mick also has blue tooth wireless headphones and can then hear the broadcast of the game thru the headphones.  Of course this app will work at your home, restaurant or anywhere there is a broadcast that you want to here on your phone.
THANKSGIVING – Back to Phoenix
We came back to Phoenix for two or three weeks. Had a wonderful Thanksgiving with our oldest daughter and her family. She has two of our grandchildren. We hope you can tell, we are very proud of all six of our grandchildren.
Las Vegas – again
Did I mention, we love College football? I thought so…. I might not have really told you how much though. The 40+ CFB bowl games started on December 17th and go until the Championship game on January 9th. We also attend the CES convention that is in Vegas every January.  We reserved a month at The Las Vegas Resort RV park from the 15th of December to the 15th of January 2017. So, back to Vegas we went, But, this time we did something very different. We also brought our car. Which we never do. But, when you are sitting for a month; and, you plan on driving back to Phoenix for Christmas (four days). It's nice having the car. We checked on renting one in Vegas and it was around $400. It was much cheaper to bring our car from home then to rent one in Vegas.
CHRISTMAS IN PHOENIX
We drove home from Vegas for four days and had Christmas with our oldest daughter and her family.  They annually have the traditional Italian Seven Fishes Feast on Christmas Eve.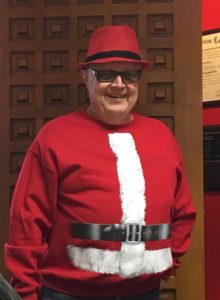 Merry Christmas from Mick and Chick! ! !
BACK TO VEGAS
Back to Vegas for the remaining Bowl Games and the CE convention.  While in Vegas we visited the new art work about 10 miles South of town on I-15.  It is called Seven Magic Mountains.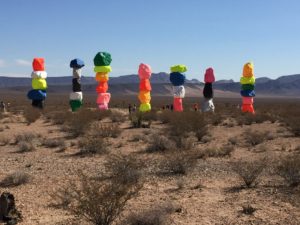 Each rock is five or six feet tall.  If you can zoom the photo you can see people standing at the bottom of each column.
We hope you enjoyed our quick review of the last four months.  We have our next post almost ready which will be a review of our year 2016.
We wish you a prosperous, happy, joyful, healthy 2017! ! !
-Mick & Chick