HAPPY NEW YEAR -OUR REVIEW OF 2016
YOU ARE '16 GOING ON '17
You are sixteen going on seventeen
Baby it's time to think
Better beware be canny and careful
Baby you're on the Brink
You are sixteen going on seventeen
Fellows will fall in line
Eager young lads and rogues and cads
Will offer you food and wine
You need someone older and wiser
Telling you what to do
I am seventeen going on eighteen
I'll take care of you
Remember this song, from the Sound of Music? I guess we should say, "we are 2016 going on 2017."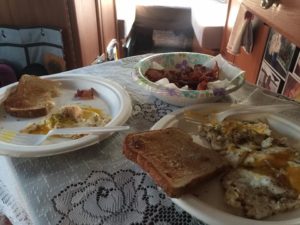 Our New Years Day Brunch
REVIEW OF 2016
Knowing retirement would be the start of a brand new life we wanted to break away from our career of 45 years and start something new that would keep us active and enthused and young at heart. Looking forward with excitement and not looking backward. We are very happy with our career and what we accomplished but would rather look through the front windshield and not the rearview mirrors. Our future is bigger and better than the past.  Or… at least, we hope so. We have made the break from our old life of running a business and have jumped into our new life with both feet (and… with a little fear). We have to admit… we are loving this new life we have created with a mixture of three different ways of traveling. Reviewing 2016 and looking back over our first eight months of retirement, we have done exactly what our plans were to do. We wrote about our way of retiring in an earlier blog but wanted to reinforce some of it again. Probably saying it a little different.
Retiring a few years later than the normal retirement age we gave a lot of thought to how we wanted to spend our time in the "November" of our life. Mick was 72 and Chick was 68. Looking at others we knew who had retired, they fell into two groups. Those that were active and those that were not. Knowing how active we were before retiring, we decided to come up with something that would keep us from getting older or even worse… acting older. Our goal was to make sure we didn't change to a sluggish life style of TV, reading our iPad, Kindle and sitting in a recliner all day. That is what happens when you decide to do nothing but eat, sleep and sit in front of a TV. Next you will need a walker because of all the inactivity. Both our parents had long retirements and they both had brothers/sisters, aunts, uncles and friends that we got to watch and see the active and non-active life style. Of course… all this depends on us staying in good health. We hope, the activity will help with that also.
As we looked back through our life and considered and thought about all of the things that interested us. The one thing that both of us really liked and really enjoyed to do together… was travel. So, after a lot of thought we narrowed it down to three types of traveling we wanted to do after retiring.
Our love for traveling included: cruising the oceans blue, our Class B, Roadtrek motorhome and mixing in a few timeshares.
CRUISING THE OCEANS BLUE
Love cruising because we love being on the water, the smell of the sea, the ports. In fact everything about going on a cruise. Mick and Chick have traveled on more than 15 cruises and plan to do one or two every year. We have cruised to Alaska, numerous islands in the Caribbean, the Mexican Rivera, Hawaii, the Mediterranean, New England, Halifax, St John and different repositioning cruises. Our next cruise we have booked will be a two week repositioning cruise going thru the Panama Canal in January, 2018.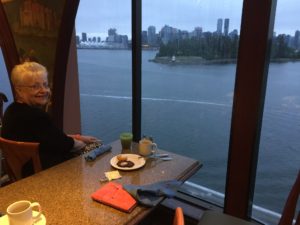 Chick on cruise in Hawaii
CLASS B ROADTREK
Our next love of travel is our motorhome we bought it in August, 2014. Wanting to learn and adjust to this new life two years before retiring. Having studied Class A's, B's, C's, fifth wheels and travel trailers, we decided the Class B was best for us because of the advantages that it offers. Small in size. Able to travel anywhere a car can go. Able to boon dock with stealth ability. But, still have all the advantages of a Class A. Like a large bed, bath and shower. A kitchen with two burner stove, microwave and refrigerator. Two front chairs that turn around. A satellite antenna for TV, an awning and an Onan generator. A/C, heat, black tank, grey tank and a fresh water tank.
We love stopping wherever and whenever we want and fixing a lunch and/or taking a nap. Things you can't do when traveling in a car. We love not having to plan ahead on where we can stop for the next bathroom, we have one with us. Our RV is fully self contained. When we pull into an RV park, we only plug in the electric cord. We don't pull a car. When we want to site see (which is every day) we just unplug the electricity and put away the cord. And, away we go… seeing things on our bucket list.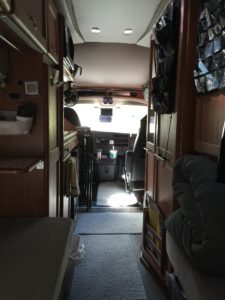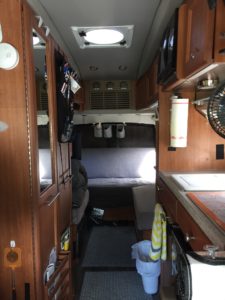 THE RIDGE AT TAHOE
Our third love of travel is our time shares at The Ridge resort at Tahoe. Our good friends Bill and Doris introduced us to The Ridge. Love The Ridge because it is 30 years old and looks like it is just a few years old. They keep all the towers updated regularly and have great management. Tahoe offers so many things that are rare to find at one location: mountains, lake and first class casinos. We tell everyone it combines three different vacations that we love. One of our main vacation spots when we lived in Kansas City was the Lake Of The Ozark's in Missouri. Tahoe reminds us of that. Another love was going to the mountains in Colorado. Tahoe reminds us of that. Another love is going to Las Vegas. Tahoe reminds us of that. So Tahoe is a combination of The Lake Of The Ozark's, the Colorado mountains and Las Vegas. It doesn't get better than that…
Along with the timeshares we own we use the Last Minute Deals that are available thru RCI and Interval International. Once you own a timeshare and it is placed thru one of the big travel companies, they offer special deals to help fill their units. As an example, RCI offers specials good for the next 60 days. You can rent a one or two bedroom for a week in almost any State for around $280 (or a little more depending on location, size and popularity). We like RCI better than II for last minute travel. We try to supplement our motorhome travels with a week in a timeshare every two to four weeks. We then stay at the time share and travel in our motorhome every day going in a different direction. We explore the area around the timeshare within a 100 mile radius, using the condo as a base location.
MAY 1ST TO DECEMBER 31ST 2016
Our retirement started on May 1st and we left home on May 2nd for our "Retirement Cruise".  Flew to Hawaii, spent a few days on Oahu and then boarded the ship. Went around all the islands and then across the Atlantic, ending in Vancouver. Flew back to Phoenix and then left on May 31st for our six month travels with our Class B motorhome with mixing in a few timeshares.
Our plans took us to Tahoe at the Ridge timeshare for a few weeks, then using our motorhome we drove to Santa Barbara and up the PCH, Highway 1. We drove thru California and Oregon.  With a one week stop at our friends, Donna and Bill's home in Lincoln City, Oregon.  Then we drove North thru Washington around the Olympic National Park.
Then across the top of Washington on Highway 20 into Idaho.
Then South thru Montana, Wyoming (Yellowstone Park), over to South Dakota and then down to Omaha. We spent a month with our daughter and her family then drove to Kansas City for two weeks. We left KC for a week in Branson, MO at another timeshare and then drove back to our sticks and bricks home in Phoenix arriving by Election Day. We only stayed home a week and then drove North to Vegas. This is the best time of the year to watch college football at the sportsbooks.  We have been in Vegas with the exception of Thanksgiving and Christmas that we spent back in Phoenix. We are now in Vegas celebrating the New Year and then will attend the CES convention before heading back to Phoenix.
This was a short version of our 2016 travels.  We hope you had the time to read our much lengthier tales in our blogs. We try to post more often in our Row With Mick And Chick Facebook page and our longer tales in the blog.
We wish everyone a fantastic 2017 and look forward to see what our adventures will bring us this year.  Please follow us and tell others about Mick and Chick. Please spread the word…