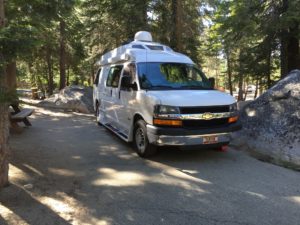 1. Easy to drive. It is just like driving a van. Ooops, it is a van!
2. Go anywhere. We have been on Highways with length restrictions. We just laugh. We do not worry about length restrictions. Highways with restrictions are normally the more beautiful drives. As an example, The Pacific Coast Highway which is Highway 1 that runs along the beautiful California coast, has areas that restrict all vehicles to less than 30 feet. We are 20 feet long. Yes! We have no problem driving the PCH! ! !
3. Park anywhere: fast food, restaurants, movie theaters, grocery store, etc…. We do park further to the back of a lot. We don't want any dings on our cute little baby.
4. Quick setup in a RV park. We only plug in the 30 Amp electric cord. If you have enough solar, you do not have to even do that. We change her diaper and give her a new bottle about once a week. That's what we call dumping and filling the fresh water tank.
5. Quick leaving a RV park. One unplugs the electric cord while the other checks the inside to make sure everything is put up and all cabinets are latched and locked.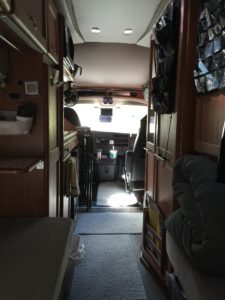 The next four are when we have an RV park and have gone sight seeing for the day.  We are in our van instead of a tow vehicle or the pickup that tows a fifth wheel.
6. We always have our bathroom with us. More important for women than men. This could be listed as number one. We always have our own toilet with us to use whenever and wherever. Sometimes it's hard to find a bathroom and sometimes when you do find one… it is yucky.
7. Always have our kitchen with us. We can and do… pull over and make breakfast, lunch or dinner whenever and wherever.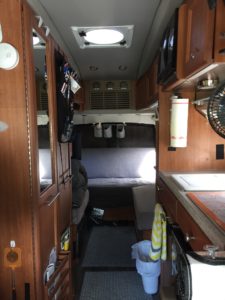 8. Always have our wardrobe with us. It can turn cold or warmer than you expected. We can change our wardrobe anytime we want. Have you ever wished you had brought a coat? Spilled something on your clothes? Found you were over dressed or underdressed? Bada-boom Bada-bing… our wardrobe is with us!
9. Always have our bed with us. Have you ever wanted to take a nap? To tired to keep driving? We always have our bed or our reclining chair with us. Many times, we have stopped in a parking lot, made lunch and took a nap.
10. Cheaper in RV parks. We frequently only pay for electric. Do not need full hookups.
11. Ferry boats and toll gates are cheaper. We only took her on one ferry boat ride but our cost was $20. A fifth wheel owner said he paid $120.
12. Quick and easy to clean. We wash her in the self clean quarter car washes. We have a quick routine. Mick uses the brush and then the wand. When Mick finishes he pulls into the shade and Chick starts drying the outside with two rags while Mick cleans all the window glass. We finish about the same time and off we go…
13. Better MPG. Whatever van you have, gas or diesel, it will be better than a Class A, C or fiver. We get 16 to 21 and are normally around 18 MPG.
14. Easier to stealth boondock (dry camp). After all, we look like a van not a motorhome.
15. Quieter driving down the road. Most true class B vans are quieter than an A, C or fifth. Ours is two and a half years old with over 30,000 miles and it is still very tight and quiet. No rattles or squeaks. Noise is very common in units built on a separate box rather than built inside the original van body. –Mick & Chick
Mick and Chick write a blog about their travels in a Class B, mixing in a few timeshares and a cruise or two. You can follow them on Facebook under: ROW With Mick And Chick. Go to their FB page and "Like" it to receive notices when they post another blog. Please share this blog with your family and friends…