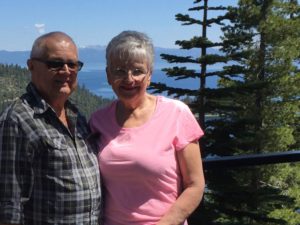 We have been at The Ridge at Lake Tahoe for the past three weeks in three different two bedroom condos.  We had the pleasure of having relatives stay with us.  We had a blast introducing everyone to the Tahoe area.  Our daughter was the only one who had been here before. We love the mountains, the beautiful lake and the casinos.  Chick and I say Tahoe reminds us of The Lake Of The Ozarks, Las Vegas and Colorado wrapped in one.
We love The Ridge because they are lockouts and can use them as a two bedroom suit like we did this year; or, can use a one bedroom and lockout the other bedroom and use it in trade for other locations around the country.  The Ridge is a prime location and easy to trade.
We will use last minute deals as we keep off the Interstates and travel the two lane by-ways around the country.  We also own four time-shares at The Ridge and will normally be there in June and/or July.
We are getting The Sugar Shack ready to roll this Friday, slowly heading to Santa Barbara.  We will be there over the Fourth of July and then back to Tahoe for one last week at The Ridge.  We are then heading North by Northwest starting at the Oregon coast.