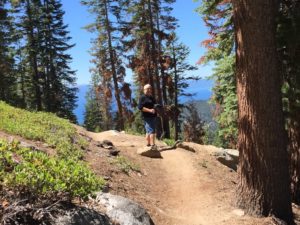 We left Tahoe's nice cool weather and aimed the Sugar Shack toward the California Coast and it's cool weather. Our goal was to go back to Fort Bragg and resume our trip up the CA 1. We just had one problem. The middle of CA was running 102 to 105 and it was a 7 or 8 hour trip (the way we drive). We deadheaded from Fort Bragg to Tahoe two weeks earlier but didn't want to drive that long a day going back. We believe in the 250/2:50 rule. Which is drive no more than 250 miles or until 2:50 PM whichever comes first. And, that is stretching it. We really prefer the 150/1:50 rule when we are in a scenic area. But, even though we knew the heat was in the middle of California, we decided to drive back to Fort Bragg in two days and we made an over night stop at Yuba City.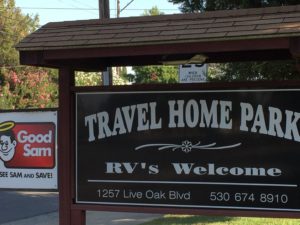 We accidentally stumbled into a really nice RV/Mobil Home park at Travel Home Park In Yuba City. Chick was looking online for somewhere to stop that would be unique or different and saw that the County Fair Grounds allows RV's to spend the night. Mick called and made a reservation saying we were close and would be there soon. When we arrived they apologized over and over saying they had forgotten they were not accepting RV's because the County Fair was one week away and they didn't want vehicles on the grass for the final week. They said they had called other RV parks to help find us a place and they had found one spot left at Travel Home Park. It was a very nice park ran by two ladies that take excellent care of all the details. The restroom was very clean and you could tell they thought of everything. The laundry was very good and clean. We normally will drive by a mobil home park that also accepts RV's but this one is an exception.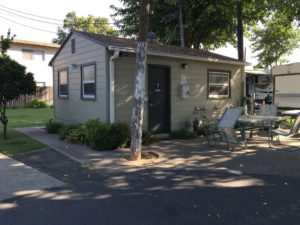 We left early the next morning because the heat reminded us too much of Phoenix's Summer months that we were trying to forget. We drove to Fort Bragg and spent another night at POMO where we stayed before going back to Tahoe a week earlier. POMO is one of the best ran parks we have ever stayed at. It is very well managed, clean, big lots with vegetation surrounding each site, privacy, very nice bathrooms, showers and laundry, firewood, fire pits, paved roads, the gravel lots are raked and cleaned between tenants. Their cost is under $50 a night and that's cheap along the CA coast. They have everything except good WIFI and they do not take credit or debit, (cash or check only). We find it's tough to stay without the Internet and good Wifi is worth it's weight in gold. We love POMO but would love it even more if it had good Wifi.
We left on Wednesday heading North on CA-1 or the PCH whichever you prefer to call it. This is the last week or two before school starts and parks are filling up fast. It's still possible to find a park during the week but it might not be the park you really want and the weekends are booked. We called and made reservations in Eureka, CA at Shoreline RV Park for the following Friday and Saturday night and got their last space. We were thrilled to not have to worry about the weekend and figured we would wing it for Thursday or boon-dock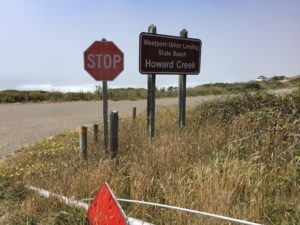 Wow, did we discover a neat place for Thursday. We were driving up the CA 1 just North of Westport probably only 40 miles North of Fort Bragg and saw numerous places to pull off along the coast about every two or three hundred feet. Each road had a sign that said State Park. We slowed down and pulled in to investigate. There was a high cliff above the Ocean and a single paved road with ten or so spaces each with a picnic table and an outhouse across the road.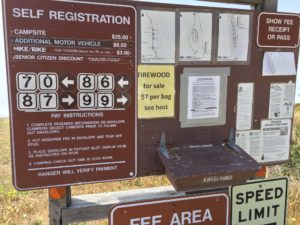 Each park had a pay station. They had envelopes for you to fill out and put in cash or a check and then slide it into a slot That fell down to the secure bottom. The pay schedule indicated the amount and listed different discounts. We had to pay $23 which is a steal in this area. We parked and listened to the surf all night! ! !
We discovered that our two AGM batteries were not working correctly after boon-docking and we watched our house batteries for the next few days.
We drove to Eureka and stayed at an RV park for Friday and Saturday night and explored around the town. Eureka is a beautiful small town with a great dune area on a peninsula that is West of the Humboldt Bay. Sorry, we didn't get any photos to show but Eureka is worth spending a night or two.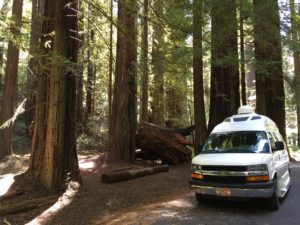 After leaving Eureka, we drove through the Avenue of The Giants. Wow!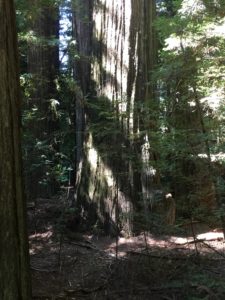 What a scenic highway. We stopped so many times and saw so many beautiful trees that we finally hit the saturation point where we couldn't stand to see one more gorgeous turnout! ! !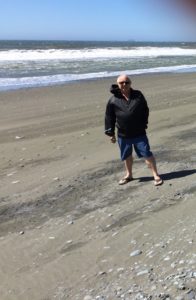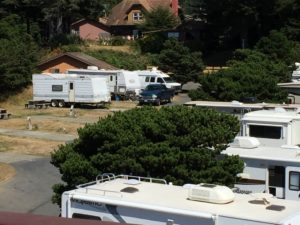 We drove into Oregon and stayed one night at an RV park about 50 feet from the berm along the beach.
We kept a close eye on our batteries and decided that one of our AGMs probably had a bad cell. After charging the house batteries the gage would drop down to 6 cell and then stay there for hours. We decided we probably had one good battery and one bad battery. We dug out our owner's manuals and studied the batteries and the 1250 Tripp-lite inverter/charger and how to change the battery if necessary. We discovered that the manual for the inverter said the two batteries had to be the same age. Which meant if we replaced one battery we had to replace them both.
We decided we better stop playing around and go to our friends home in Lincoln City, OR and see if we could find a decent AGM battery store. We thought we might have to go to Portland thinking we would have better luck in a bigger City.
After arriving we found online there is a Roadtrek dealer in a suburb of Portland. We called and they were very nice and helpful but said they were booked solid for a month or more but offered to squeeze us in for a battery check. When I told them we were on the coast they suggested we try Les Schwab. We tried them and were referred to someone else and they referred us to someone else and so on and so on until we finally found, (we need a drum roll please)… All Start Auto Electric, Inc in Newport, Oregon. Very knowledgable, efficient and got us right in. The final result… we bought two AGM Gel Cell 6 volt Trojan batteries about $620 installed.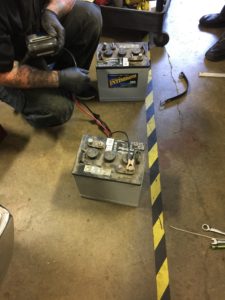 The short week we have had them, we are very impressed and happy and they have stayed fully charged. How, when and why the batteries died (I guess I should say one battery) we don't know. We bought our Ranger RT exactly two years ago in August of 2014. But the Chevy Express is a 2013, so we do not know the exact age of the batteries but…. We do know they have set in Phoenix plugged into 30 Amp for weeks at a time. The heat in Phoenix tends to shorten the life of a battery to about half what is normal. So, we can't complain about the life of the original batteries. We are very pleased that with this problem we were able to manage it and get it fixed without turning a molehill into a mountain and now we are back on the road and feel better about boon-docking in the future with two really strong house batteries. I just wish we had some solar to help increase our boon-docking ability.