SHOULD WE GO "THE OBVIOUS WAY TO GO"?
We left Phoenix with the general thought of going to South Texas where the Winter Texans go.  We wanted to find out why Snow Birds go there instead of Arizona or Florida.
Looking at the map the obvious way to go was East on interstate 10 thru Tucson and then El Paso. But, we do not like to go "the obvious way to go" since we are retired and looking for fun and adventure and in no hurry. We love the Blue Roads, you know the two lane highways that go thru little towns where "Off The Beaten Path" stories take place. Where you can eat in a mom and pop local restaurant and ease drop on the local people talking about their day and their lives. If our GPS says it will take 3.5 hours from point A to point B, we figure it will take us 5 or 6 hours. We like to plan extra time not knowing when we will see something and take off in that direction. We might find a picnic table in a park and make sandwiches and chips and then take a nap. Believe me, this is quite a change after being a "type A" all our working lives and always in a hurry and hated to have anyone driving in front of us; or heaven forbid, pass us. We had to be in the lead. Now we look for a semi or something slow to get behind so they will get the blame for us driving slow. We always leave a nice big gap between our van and the semi, so if someone wants to pass they can pass, get in between and then pass the semi later. But, we are very content to lallygag and take our time and keep a sharp eye on the camera in back to make sure we are not holding up traffic. We pull over and let anyone and everyone go by as fast as they want. Doesn't bother us because that use to be the way we drove and we understand.
Anyway… (back to looking at the map) we thought about taking the blue highways thru Safford, AZ but we would still end up on Interstate 10. So, we started looking a little farther North and thought, let's go thru Show Low and stay at a nice State Park where we have been twice before and we loved. We could then go East on 60 thru Pie Town, NM another fun spot. Then past the Satellite Farm where the government is listening for Outer Space transmissions and then go to Roswell, NM where the spaceship crashed and the aliens invaded Earth and then later ran for President. Or, at least… that's what some people think. After this last election and all the craziness… they might be right. Then we can find our way to San Antonio and down to the Rio Valley and South Padre Island where the "Seniors Spring Breakers" go and are called Winter Texans. With all of our travels over the last hundred years, Chick has never been to the Rio Valley. Mick went one time to visit his parents who were there for the Winter back in the '80s.  That was so long ago that nothing will look the same.
SHOW LOW, AZ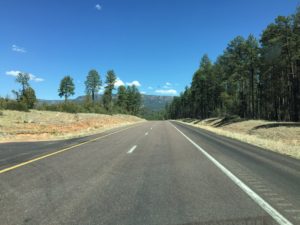 We went to Fool Hollow Lake State Park in Show Low and picked the Mallard Circle. We like lots 8 and 9 because they are directly above the lake with a nice view and have good paths down to the water.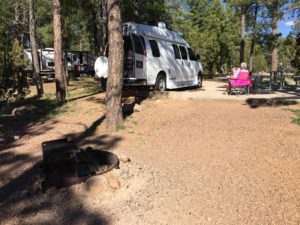 An added benefit, they are directly across from the flush toilets and showers.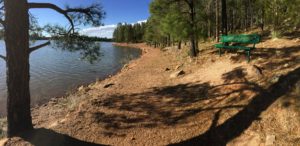 The Lake has a path along the shore with a bench every now and then. Very pretty. The Sun was shining and the high was in the low 70's. We couldn't have order up a nicer day.
PIE TOWN, NM
Everyone's bucket list has to have Pie Town, NM on it. It has been on the CBS Sunday Morning show. To be honest it has outstanding pies but one time we bought a pie that wasn't that outstanding. But, who cares? It's the idea of checking one more item off your bucket list. And, the pie we didn't care for probably would have been loved by someone else. Pie Town is a cultural experience and we will go thru there every chance we get. There are two restaurants. The older one that has been there the longest is now just a Pie Bar and no longer a restaurant. It is only open on Thursday, Friday and Saturday.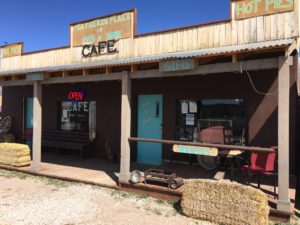 The other restaurant, a block further West is open seven days a week 365 days a year. They have a small and limited menu written on a chalk board. Go… enjoy… tell everyone else about it! This is a must see along with the VLA a little farther East.
SATELLITE FARM VLA (very large array)
This is about 20 miles East of Pie Town on highway 60 and it's not on our GPS map. We do not know why because it's not a secret. There is a lot of info about it online. They have 27 satellites that can be moved on rails over a 13 mile area. The office is on the South side of the highway, one of the rail arms goes cross to the North side, so you are driving thru the middle of the complex. The satellites are yuge, each one weighting 230 tons. This trip they were close to the building on one side quite a way from the highway. They looked small off in the distance. One trip in 1989, they were having an open house. We took the tour. It was very interesting. You can read one of many online information sites by clicking here… http://www.roadsideamerica.com/story/14701
VALLEY OF FIRES RECREATION AREA
We spent the next night at Socorro, NM in a park that we won't talk about. The only good thing, it was cheap. We left that park and on our way to Roswell on Highway 380 still in NM we discovered a very nice picnic area along the side of the highway. We stopped for lunch and took this nice pano photo…

We left still heading East toward Roswell and went less than half a mile when we discovered a very nice Recreation Area ran by the U.S. Bureau Of Land Management where we could have stayed the night with electricity for only $9.00.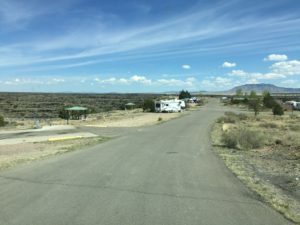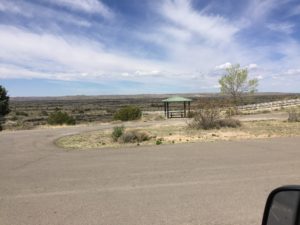 It had paved roads and paved sites. Wow. Wish we had known about this earlier. We could have stayed here instead of Socorro, NM.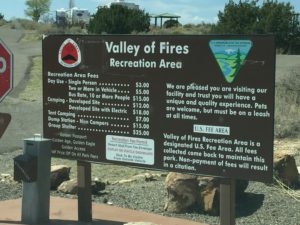 Please note on the board under the pricing that if you have the Golden pass the prices were half price. So, the $18 charge with electricity would only be $9…
ROSWELL, NM
Roswell is another Bucket List item that we can now check off. We first tried the Red Barn RV park and it was full. We had to go to our "plan B" which was Trailer Village RV Park. It turned out to be a very good park. We would gladly recommend Trailer Village RV Park. It is ran by the owner, a very nice lady with a small child. She had lots of help and a very clean well maintained park. We stayed two nights so we would have one full day to explorer Roswell.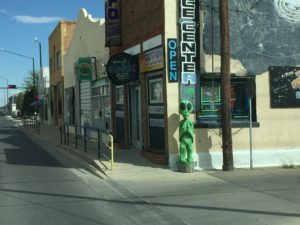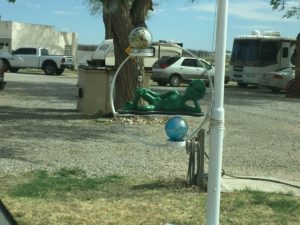 You can see by the photos Roswell has lots of aliens everywhere in town, LOL. Their Chamber of Commerce does a good job of bringing in tourists. It's one of those places we will tell everyone that we went there at least once in our life. I snapped a lot of photos of the museum… enjoy.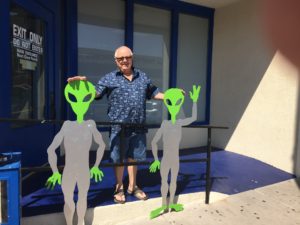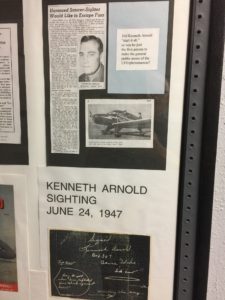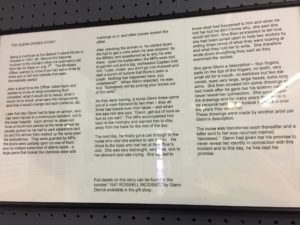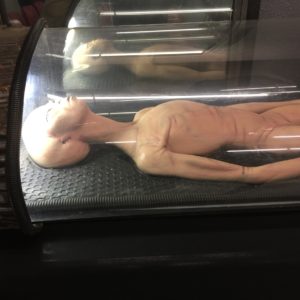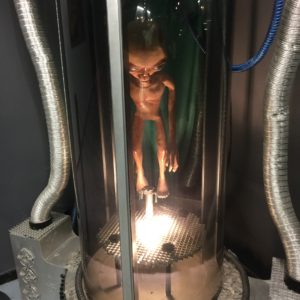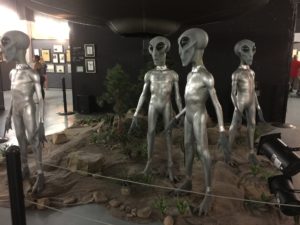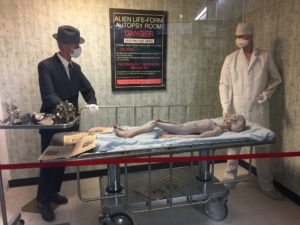 SAN ANTONIO
After Roswell we stayed in a so so park at Big Springs, Texas and then headed to San Antonio. The wind was atrocious blowing 25 to 35 MPH for two days. The first day it was a cross wind and a head wind. Our gas mileage suffered, running around 16 MPG. But… the second day it was a tail wind and we were running 22.8 MPG. It finally dropped down to 22, so I snapped a photo as evidence.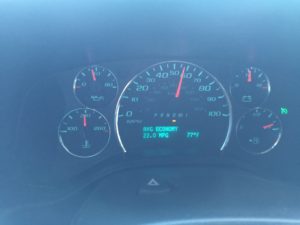 This was after 4 to 5 hours of driving so not s fluke right after filling up. Amazing what a strong tail wind can do? Also, amazing what our Class B can get compared to big Class A's, C's and fifth wheels. One of our advantages of driving a smaller unit. Good gas mileage can add up when you are putting on the miles that we drive. We like to travel and not sit in one location for weeks or months. Downtown San Antonio was very clean and a fun location. We saw it in the daytime and not at night which we understand is the better time to do the river walk.
GOLIAD STATE PARK, TX
We stumbled into a well kept secret. Goliad SP in Goliad, TX. It's not a secret to everyone, just us and it turns out to a lot of Winter Texans.
We stopped at three different RV parks in Kenedy, TX and they were all full. We assume because of the Senior's that were now heading back North from the Rio Valley area. One park was nice enough to tell us about Goliad SP and Mission Espiritu on the San Antonio River about 25 miles to the East. We loved it.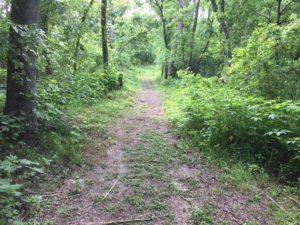 Stayed 4 or 5 nights and every night we were either alone or with one other camper. That's why we said one of the best kept secrets. In Kenedy, TX all the parks were full and not nearly as nice as this State Park. We were there thru the week. They said it fills up on weekends by locals. We asked numerous Winter Texans and none had heard of Goliad SP. Here is the web page http://tpwd.texas.gov/state-parks/goliad
PALM GARDENS RESORT HARLINGEN, TX
The Rio Valley (Mission, McAllen, Alamo, Donna, Weslaco, Mercedes, LaFeria, Harlingen, Brownsville and South Padre Island) have hundreds of RV parks. A few really nice parks and a lot of so so parks and a few real dumps. We picked our park, Palm Gardens Resort, online and made reservations for four nights. Thinking that would be enough to see the valley from one end to the other including the Gulf at South Padre island. Little did we know what a great park we had picked. This park was voted number one in friendliness (according to a guest) and it is old, small lots with a few big lots; but, very well maintained and clean. There are some very nice and new parks but they have very nice and new prices that are about double what we paid.  Plus they are so big no one gets to know their neighbor.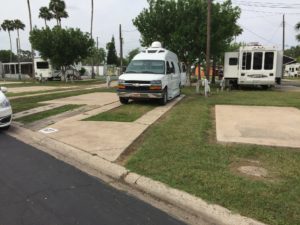 Palm Gardens Resort has a very nice swimming pool, lots of park activities, a pool hall, a ceramic shop, a library, a mail room, laundry, restrooms & showers, dinners, a Hall, game nights, etc… There is a Coffee Shop sign on one door. We went in and a small sign over the coffee pot said, ten cents per cup or one dollar per week. You can't beat that price.  We thought we had landed back in 1960.  People went out of their way to say hi and small talk. We thought, WOW we are back in the Midwest again. We liked it here so much we juggled our schedule and decided to stay 2.5 weeks. The manager figured the weekly rates, monthly rates and our Good Sam Discount to see which way would be the lowest price. We ended up paying $15 a night. Mary and Randy manage the park and are absolutely the best! If you ever come to the Rio Valley, we highly recommend this park! It's  not brand new and not fancy but it's all paved roads with grass between and it has really good wifi. I had one guest tell me that every year when they come back, they are welcomed like an old friend that they haven't seen in years. They hug them and say how happy they are to see them again, etc…. YEP, this is a park that we highly recommend and we will probably go out of our way in future years to come back here for a few weeks. … and that's saying something when you realized we own a sticks and bricks home in AZ.
SOUTH PADRE ISLAND
This is a hot spot for Spring Breakers and we were lucky to be between the college SB'ers and Easter. We called ourselves Senior Spring Breakers…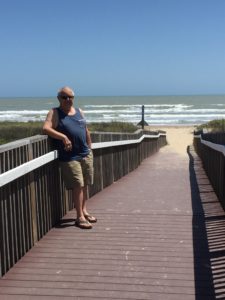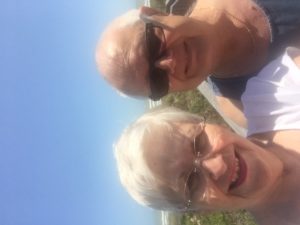 MISSION & McALLEN
We found the old downtown for Mission, TX. Here are some photos
Mission, TX.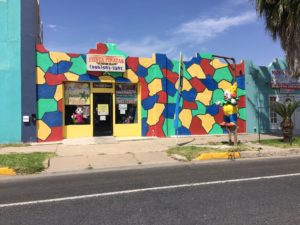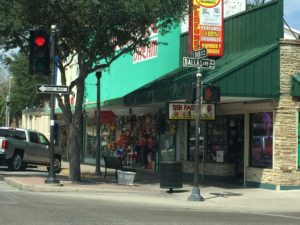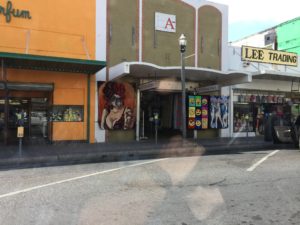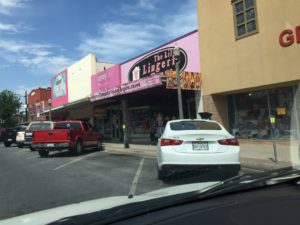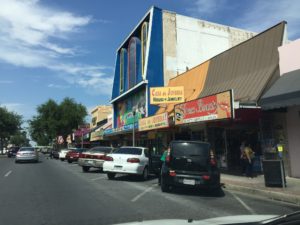 Mission is a fun area Just West of McAllen, TX.  McAllen is where the new stores, high rises, hospitals and malls are located.
BROWNSVILLE, TEXAS
Very nice quaint City on the border and on the Gulf.  Their downtown looked a lot like Mission, Texas' down town.  As we traveled up and down their roads we stumbled into the border crossing.
HEADING TO DALLAS
We are leaving soon and will visit with Mick's niece and her family that we have not seen in many years.  Looking forward to a good visit and to meet relatives we have never seen.
HAPPY EASTER TO EVERYONE
Now that Easter is here, guess our Spring Break has to end!  CYA in our next post……