Goin' places that we've never been
Seein' things that we may never see again
And we can't wait to get on the road again
On the road again
Like a band of gypsies we go down the highway
We're the best of friends
Insisting that the world keep turning our way
And our way, is on the road again
Just can't wait to get on the road again
The life we love is making music with our friends
And we can't wait to get on the road again
Last year, was a change of life year for Mick and Chick. We went from the responsibility of running a business to a blank slate. From office rent, expenses, payroll, supplies, daily schedule, production, customer service to… not getting up until you finally wake on your own without an alarm.
After we closed our LLC by signing the dissolution papers, we had a general idea of what we wanted to do after we retired. We don't think this will be a surprise to you, but it was to travel. We retired on May 1st and left Phoenix for our "retirement Cruise" on May 2nd. After the cruise we left in our motorhome going to Tahoe, then over to Southern California. We headed North up the PCH on Highway 1 thru California, then the 101 thru Oregon and Washington. We traveled to the NW point of the U.S. then across the top of Washington on Highway 20. Thru Idaho, down to Yellowstone, over to South Dakota then down to our daughters home in Omaha. We drove thru the Midwest and slowly drifted back to Phoenix by Election Day in November.
You can read all the details in our blog.
Last year we had plans, places to go and things to see. We drove thru parts of the country that we have wanted to see for quite awhile in our little van on steroids.
Now, we are looking at this year and Act II. We have decided Phoenix and Las Vegas are wonderful places to spend the Winter. Without counting the days… we have probably spent more nights in Vegas since last November than we stayed at home in Phoenix. We have been back and forth numerous times. We love college football and bet on all the Bowl games, the National Title Game and then back to Vegas again for the Super Bowl (with our friends, Bill and Doris).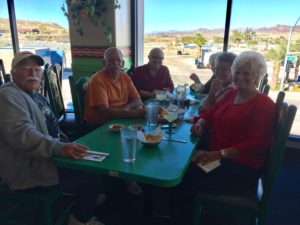 The people in this photo taken in Laughlin are from left to right: Harold, Ronnie, Mick, Chick, Sharon and Leta.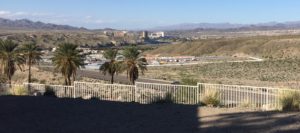 Photo taken from camp sight in Bullhead City, AZ.
Chick has two cousins that have been in AZ and CA for the Winter. We caught up with them for a week in Bullhead City and a few days in Sedona.  Next we are off to North Padre Island in Texas and who knows where from there? ? ?
Our only set plans are our grandson's graduation the end of May and then Tahoe in June and July.
ON THE ROAD AGAIN, Goin' places that we've never been, Seein' things that we may never see again, And we can't wait to be goin down the highway…….