We spent the Winter in paradise, you know… Phoenix, AZ.  Our sticks and bricks home has been lonely for us the previous 18 months, every since Mick retired.  We were traveling all but ten weeks until this Winter (2017/2018).  Mick had cataract surgery scheduled for This Winter and we had a two week cruise lined up for the Spring of 2018.  We decided to lay low and enjoy our home and we hoped to plan a few small trips with Sugar and maybe a trip or two to Vegas until the surgeries were over.  Mick is a huge college football fan and loves the Saturday's in the Fall and the bowl games starting in mid December and run until the Campionship game in early January.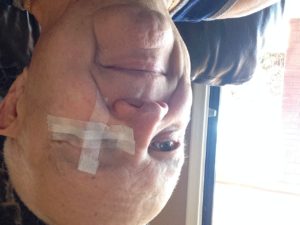 We won't spend a lot of time on the cataract surgeries; but, they didn't go as planned.  Mick did the mono vision and the plan was not to need glasses.  The bottom line is both eyes healed with near sighted vision.  So, Mick still needs to wear glasses.  The good news is… he use to have coke bottle bottoms for glasses with horrible far sighted vision.  Now he has near sighted vision and doesn't need glasses around the house or the RV.  Really only needs them to drive so street signs aren't blurry.  But, it's still a disappointment to need glasses.  As Mick says, he would not have done mono vision if he knew he would end up with glasses.  Oh well, it's how you adjust to plan B that matters in life… right?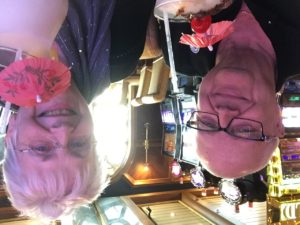 VITAMIN SEA
Have we ever said, we love to cruise?  Yep, we could probably live on a cruise ship. We always wanted to cruise thru the Panama Canal and have tours of the Central America countries.  We own a partial interest in a condo in Costa Rica (no it is not a timeshare).  We have flown to Costa Rica and driven around the country but not the other  Central American countries.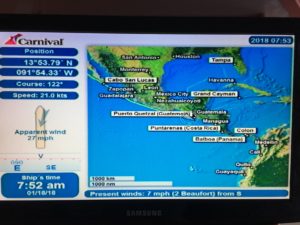 This was our itinerary.  It was a good mixture of old ports and new stops we have not seen.
The photos below are from Guatemala…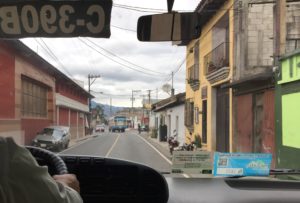 qA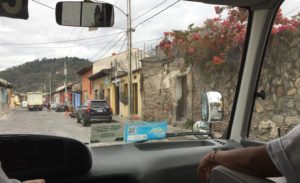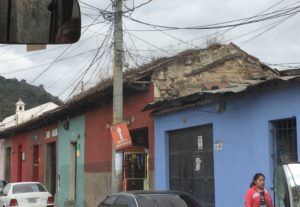 COSTA RICA
We do like Ticos.  That's what they call Costa Rican's.  They are very friendly and 95% speak English.  Their second currency is the US Dollar.  The Dollar is the only currency in Panama.  In a survey a few years ago, Ticos were voted the second friendliest in the World.  Sorry, we don't know who was number one.  Here are some photos from Costa Rica…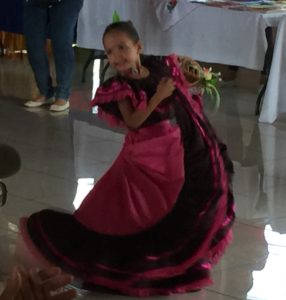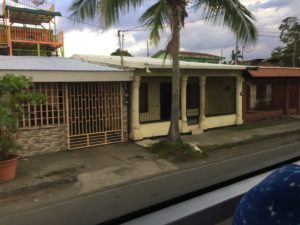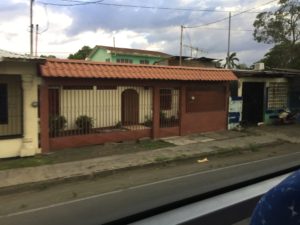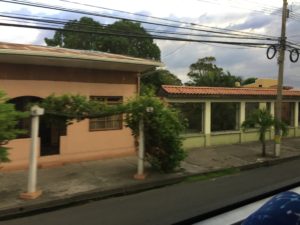 What sport do you think they watch in a Sports Bar…?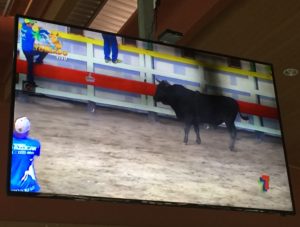 THE PANAMA CANAL
We were lucky and were allowed to travel thru the "old canal".  If you are expecting "action", forget it.  The ship literally crawls thru the canal.  It took eight hours… The old canal runs parallel with the new canal.  Watching the ship move thru the canal is like watching paint dry… You could walk beside the ship quicker than it moves. With that said, it is very interesting and worth seeing at least once in your life.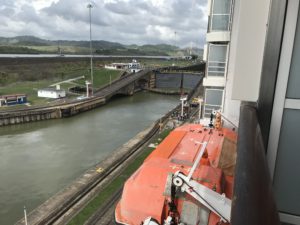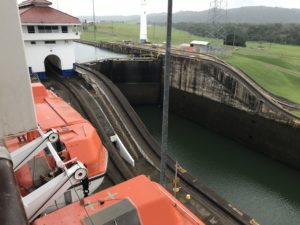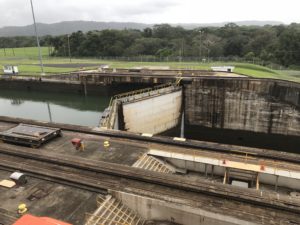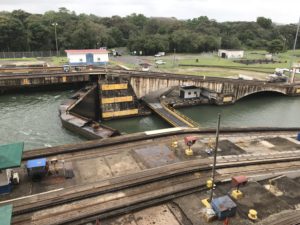 CARTAGENA, COLOMBIA
We thought the least favorite stop would be Cartagena, Colombia.  After all…. who would want to see Colombia?  Wow, we're we blown away.  It looked like Miami with all the Hotels and condos along the coast.  If you ever have a chance to go, it is well worth the trip.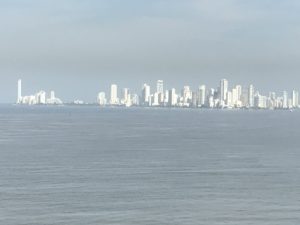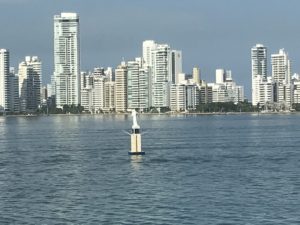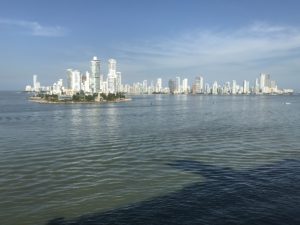 We took the tour of the old town in horse buggies and absolutely loved it….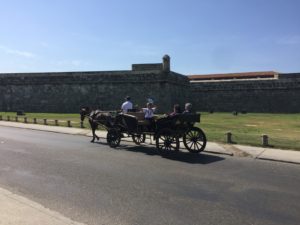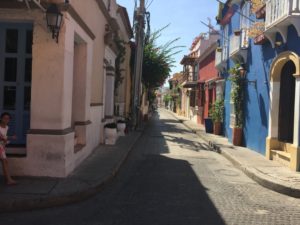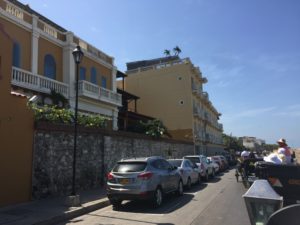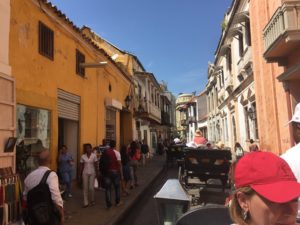 THE WORLD CRUISE SHIP
We mentioned if we had the money we would love to cruise full time.  When we got back to port from our Old Town tour, the cruise ship called The World had docked next to our ship.  You need to Google The World, it is condos that you buy for one million $$'s plus.  We think they go up to Fifteen Million or so.  It is a condo association and the owners vote each year on what ports they want to travel too.  Of course the owners are busy people and they fly in and out of major ports to get on or off for however long they want to travel and stay on the ship.  Yes, they can let friends, relatives use their condo.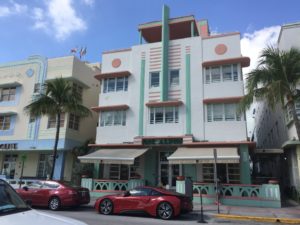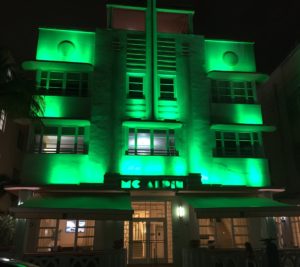 SOUTH MIAMI BEACH
We disembarked at Tampa and drove our rental car to Orlando for a week and then a week at Miami Beach.  We stayed in Orlando in a last minute deal thru RCI.  Orlando was over built with timeshares and you can always get a last minute deal for around $40 a night or $280 for a week.
We went onto to South Miami Beach and stayed at an Art Deco Timeshare thru Hilton Grand Vacation Club using our HGVC points.  We show a day and night photo of the building.  We were just down the street from where Gianni Versace was murdered in front of his home…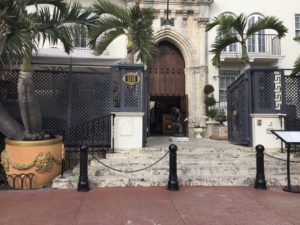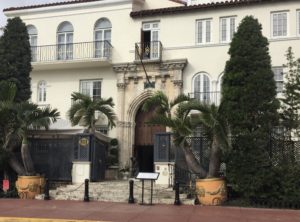 Directly across the street was the sidewalk for South Beach.  Very interesting area and fun to walk around…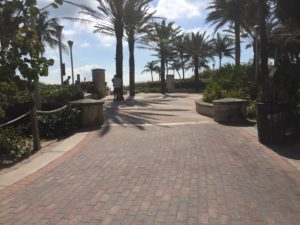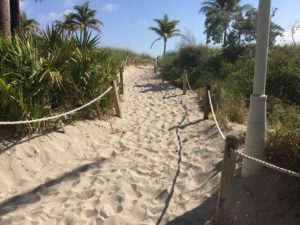 BIG PINE KEY…
We drove down thru the Keys to Big Pine Key and visited Chicks cousin and spouse at their Class A in an RV Park.
There was still a lot of damage from Hurricane Irma…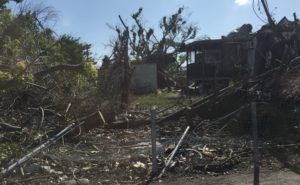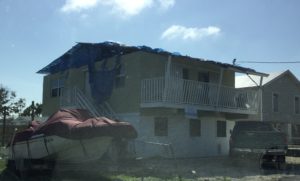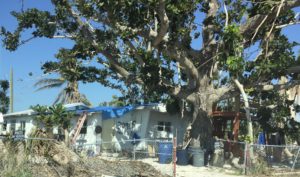 NO NAME PUB
We had a fun time and great food at The No Name Pub on Big Pine Key.  We recommend it for good food at a reasonable price…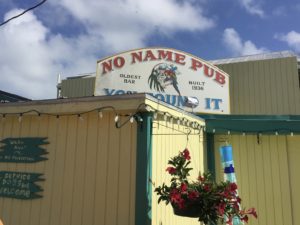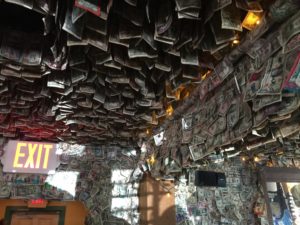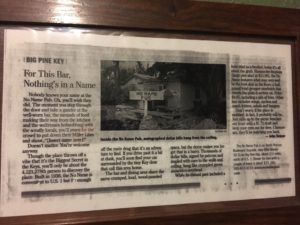 We did not drive to Key West on this trip.  We have been there many times in the past.  Everyone needs to see Key West.  It's a major part of Americana and should be on your bucket list.  We flew back to Sugar and our S/B in Phoenix to plan our Summer in Tahoe.